Micronesia Map - Flat Wall Map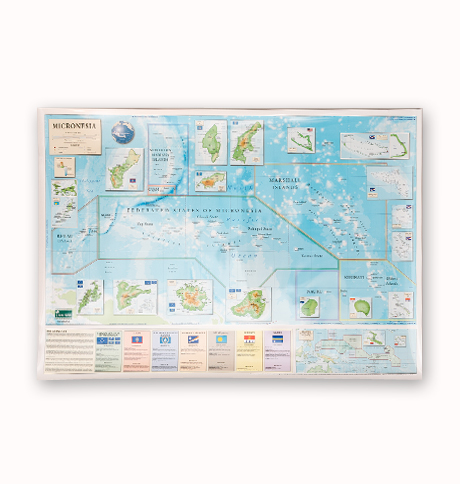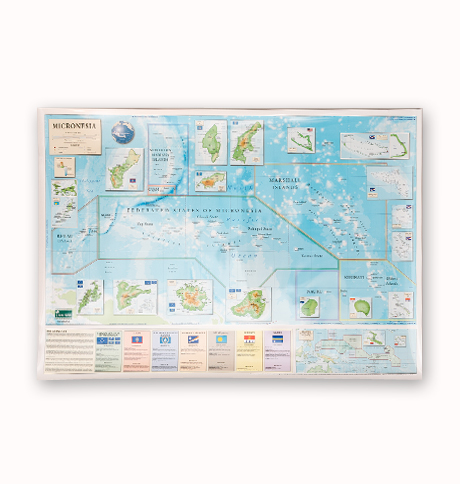 Micronesia Map - Flat Wall Map
size is 55" x 38"
available as:
Flat Wall Map - $49.95
Mounted on Spring-Roller - $125.95
Combined with Pacific-Centered World Map - $225.95
ABOUT:
The Map of Micronesia is the premiere color map focused on one of the largest regions of the Pacific. Released in 2013, this map stands alone with its atlas and geographical approach of depicting the islands making up Micronesia. Each island section is enlarged with hi-resolution digital cartography of entire islands chains. Corresponding drop boxes detail the historical, political, economical, and general demographic information of all main islands.
The double lamination applied to this map allows for long-term durability and use in all climates. Graphics include hill shading and ocean shading to help explain the detail and variation of heights and depths.
Graphic features
Blow up inserts of main islands
Available for the first time to educators in the Pacific
Miller cylindrical cartography applied to create even and undistorted clarity
Double lamination for durability and dry-erase marking
Most up-to-date cartography of the world and the Pacific
Includes flags of Micronesia
Basic statistical facts of main islands